Active Galactic Nuclei
While only 2 AGN (Mkn 421 and Mkn 501) were known in 1998 and 7 in 2003, in the last 10 years the number increased impressively, thanks to the new generation of IACTs. The distance of the sources also increased considerably: while the first confirmed TeV AGNs were rather local (z < 0.05), some of the sources recently discovered lies at redshift larger then 0.2 (and several distant sources have uncertain and even unknown redshift). The present record belongs to the quasars PKS1441+25 and QSO B0218+357, located at z = 0.9, both observed by MAGIC. QSO B0218+357 is also the first gravitationally lensed blazar ever detected in the Very High Energy range. The large majority of these objects are blazars, radio-loud AGNs characterized by relativistic jets pointing close to the line of sight. The overall spectral energy distribution of blazars, extending from the radio band to TeV energies, shows two broad components that, for all TeV sources but 3C279, peaks in the optical-UV-X-rays band and in the GeV-TeV band. The level and the position of the two bumps is variable in time, also on very short timescales. Most of the TeV emitting blazars belongs to the subclass of the high energy peaked BL Lac objects (HBL), blazars in which the low energy component of the Spectral Energy Distribution (SED) peaks in the UV-X-ray band. Only few low energy peaked BL Lac objects (LBL, peaking in the optical-IR band) have been detected. HBL are the most powerful sources in the TeV band, since the high-energy component peaks just in this spectral region. LBL (and quasars), instead, present less powerful TeV tails. This fact, together with the average larger distance (determining also an increasing role of the absorption through the interaction with the extragalactic background light, see below) translates into a lower TeV fluxes for these sources. Therefore, the present knowledge of the extragalactic TeV is certainly biased. The discovery of the quasar 3C279 by MAGIC demonstrates that also non-BL Lac blazars can be TeV emitters.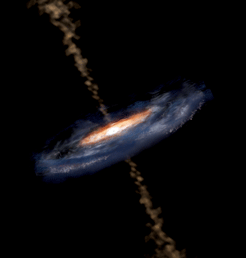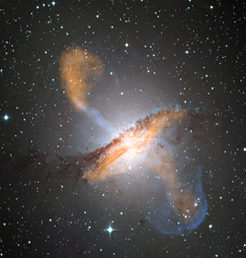 Credits: courtesy of European Southern Observatory.